It is with great sadness that we announce the passing of Life Member and Past President
Ed also served our community as 911 Police/Fire/Ems Operator for the Howell Township Police Department starting in 1973 and retiring in 1998. Ed is predeceased by his wife Adelaide Myers who was a Charter Member of the Ladies Auxiliary.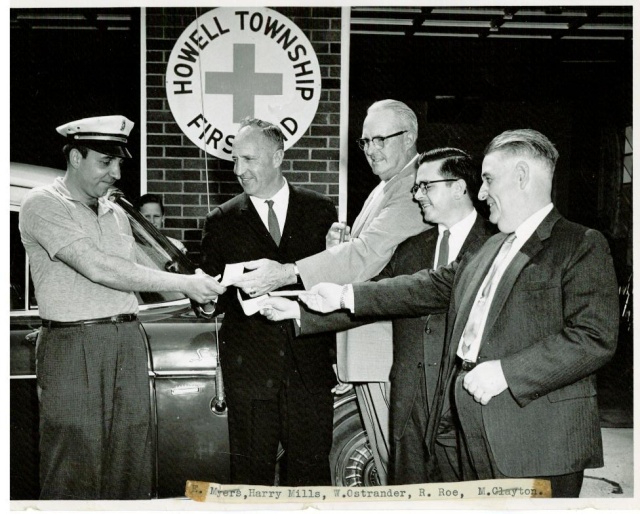 ---
We mourn the loss of one of our own
Lakewood Township Police Department

Officer Christopher Matlosz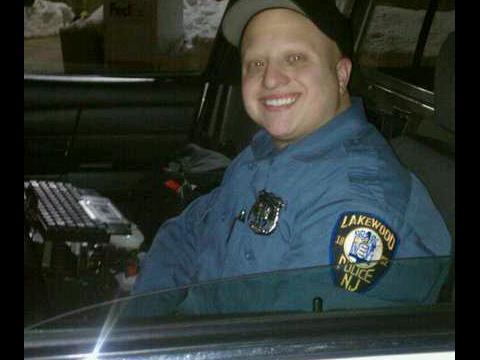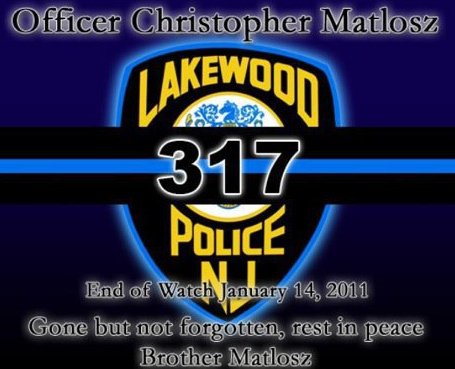 End Of Watch: 01-14-11
Officer Christopher Matlosz, 27, was gunned down in a cold-blooded execution-style murder while on patrol. At 1600 hrs, Officer Matlosz was on patrol, making his rounds in a residential development when he came up to a male subject on foot and they began to talk. It was a seemingly friendly exchange from observant witnesses. All of a sudden, with no provocation, this subject took two steps back and opened fire on Officer Matlosz while he was still seated in his vehicle. It happened so fast that Chris never got his weapon unholstered. Christopher was hit three times. The Cop Killer fled the scene on foot. 911 calls came in immediately from citizens who witnessed the exchange and execution. Ofc. Matlosz was transported to the hospital where he was pronounced just thirty minutes later. An all-out manhunt has been ongoing.
Though just 27 years old, this Warrior has been Saving, Serving and Protecting the People of New Jersey for many years. Chris began following his calling as a Police Explorer for the Howell Township Police Department. He then joined our organization in 2001 and served until 2004. He obtained his degree in Criminal Justice while working as a Class 2 Special Officer for Freehold Township, Manasquan and Long Branch PDs. In 2004, he went to work for the Englishtown PD where he stayed for two years where he received commendations for his participation in a multi-agency task force that brought down a major drug house. He remained with EPD until settling in with the Lakewood PD on August 14, 2006 where he quickly became a favorite with supervisors for his diligent, unrelenting enthusiasm and go-get-em attitude. His fellow Officers loved working with Chris due to his out-going personality that was infectious. He was not just a 'cop's cop' he was also a 'man's man'. But not just to his brethren either. On many occasions, even the citizens would call or write the Chief about how much they truly appreciated having a man of this caliber out there protecting them. Never backing down from a challenge, his cool head and smart thinking was to be the making of a long, illustrious career and life of a man who knew how to Live As Only A Hero could. May we all learn from him.

With so many lives touched, the heart-ache of this loss is immense. There is no doubt Chris will be missed and certainly not a doubt he will Never Be Forgotten.

Christopher leaves behind his Mom, Brother and his beloved fiancé who he was to marry next year. She was by his side when he left us. Our heartfelt thoughts and prayers go out to this young woman and the Matlosz family as well as to all the Men and Women who have had the privilege and pleasure of working side by side this true Hero.

Officer Matlosz, may you always know that your family will be looked after. While you patrol the streets of Heaven, may you watch over us all as we carry on in the battle ... in Our Brother's Honor. We Thank You for your Service. Job Well Done.

May you rest with some peace right now ... As we take the watch from here. SALUTE!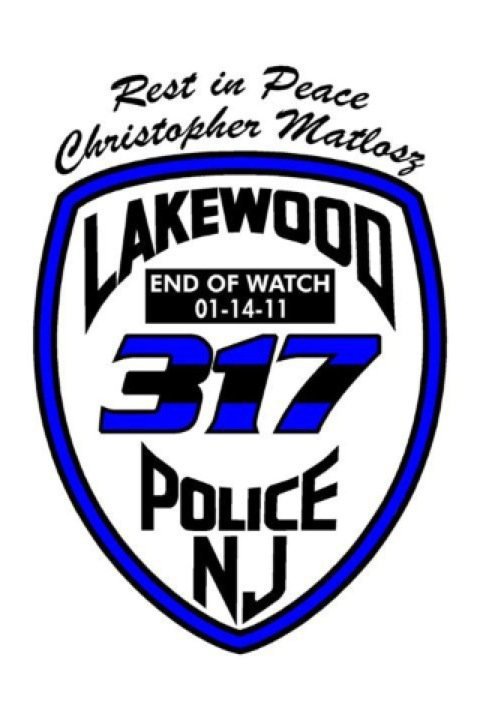 ---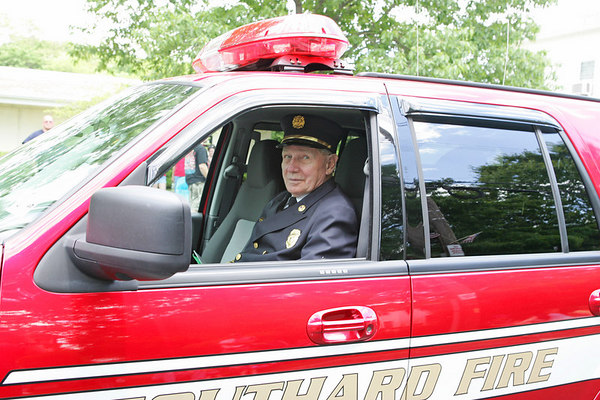 I

t is deep regret that we announce the passing of
John passed away on October 20, 2010
John joined our squad in February of 1957-
2 weeks after the squad was founded
John was also a LIFE MEMBER of the
---
The State of New Jersey and residents of Howell Township suffered a tragic loss today
New Jersey State Trooper

Marc Castellano
was killed in the line of duty on 06/06/2010 when he was struck by a vehicle on I-195

Our deepest sympathies and prayers go out to his family and
his family of the "

Blue

and

Gol

d

"

---
It is with deep sadness and regret that we announce the untimely passing of
E.M.T. Joseph Pate

Joe became a member of our family last year and just received notification that he is a NJ state EMT. During this heartbeaking and painful time, we extend our thoughts and prayers to his wife Sharon and son Seth.
---
It is with deep regret that we announce tha passing of
Charles Koreny
Charlie was a Charter and Life Member of 19-21 and served as the squads first President. He was also a Life Member and past Chief of the Southard Fire Company. He passed away on October 25, 2009. His committment to the residents of Howell Township will not be forgotten.
---

It is with the heaviest of hearts that that we announce the passing of Juliana Seaman. "Julie" is daughter to members Ron and Helen and sister to members Mike and Elsynia. Julie suffered from an illness known as Tuberous Sclerosis which she had courageously battled for longer than anyone could imagine. Sadly, Julie passed away early in the evening on February 3rd, 2007 and is now at peace. This date is coincidentally the 50th Anniversary to the day of our squads inception. Our thoughts and prayers go out to the Seaman Family.
---
It is with deep regret we announce the passing of Kathleen Manson.
Kathy was a member of our organization for many years and had to leave due to an illness just shortly before attaining her life membership. Our thoughts and prayers go out to the Manson Family.
---
The 19-21 family wishes to extend our sincere regrets, thoughts, and prayers to the Howell Police Department and family of Officer
George Garo #301

GEORGE W. GARO, 77, of HOWELL, died Tuesday, June 13, 2006. Mr. Garo was born in Thune, Switzerland, and came to America in 1954, settling in the Tottenville section of Staten Island before moving to Howell in 1964. He was a veteran of the Grenadier Swiss Army. He was an alumni of New York University, receiving his degree in engineering. He was a structural safety engineer for Public Service Mutual of New York for over 33 years before retiring. He was a member of the American Society of Safety Engineers, Chapter 182 of New Jersey. He was a charter member of the Howell Police Department since before the formation of the full-time police force. He was currently a part-time Class II police officer for the Howell Police Department. He was a past master mason at the Humboldt Lodge 512 F&AM, New York, and was currently a member of the Olive Branch 16 Lodge, Freehold. He was also a past patron of the Molly Pitcher Lodge Chapter 198, Order of the Eastern Star. He was a member of the BMW Motorcycle Club Worldwide, and was a member of the Blue Knights of New Jersey.
---
It is with deep regret we announce the passing of one of our own. David Porsche a 5 year member and Trustee of the squad passed away on 08-18-2004 at 2130hrs. Dave was a fixture on our squads day crew and answered enough calls to give him over 13 years of service in just 5 short years. Prior to moving to Howell 18 years ago, Dave was also a 27 year veteran of the Dover (Morris County) fire department. As we mourn the loss of our colleague, our thoughts and prayers go out to his family.

click here
---
On 12/02/2002 We lost one of our own-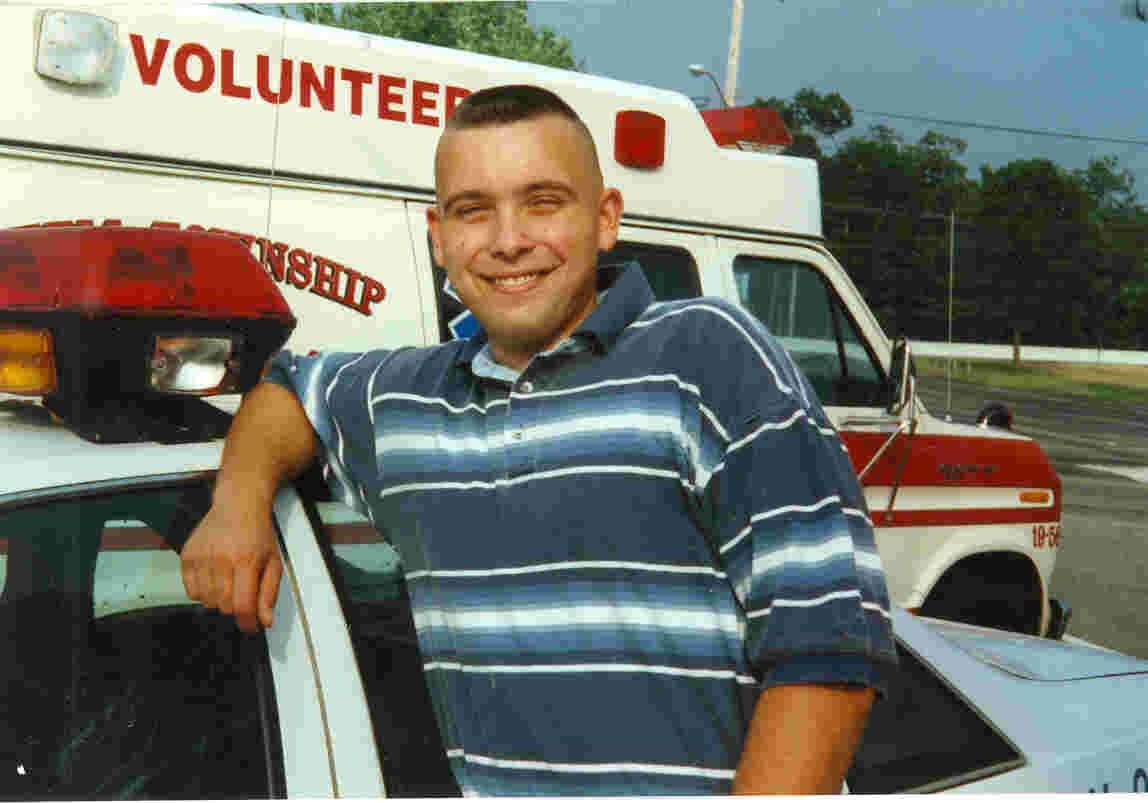 Michael Michau was only 23 years old when he lost his battle with Cancer. Mike was a valued member and one who we would always there to help others even until he could no longer. Gone but not forgotten!
---
The following is a list of members who are no longer with us
Herman Lange- 1962

Mildred Cottrell*- 1967

Elizabeth Poole*- 1973

William Jones- 1974

Charles Swan Sr.- 1974

Louis Greenberg- 1975

John Barnett- 1975

Josephine Mazzatesta*- 1975

Robert Bird- 1977

Marion Reynolds*- 1978

Doris Osborn*- 1979

Thomas Kunz (cadet)- 1980

Diane Larson- 1981

Dorothy Menth*- 1982

James Addison*- 1984

Josephine Malayter*- 1984

Marie Schlosser- 1985

Ann Stickles*- 1985

Alma Thomas*- 1985

Rose Scoppetturlo*- 1990

S. Lee Parnes- 1991

Dolores DeMatto*- 1991

Evelyn Rosa*- 1992

Thelma Addison*- 1992

Connie Kline*- 1992

Mary Patterson*- 1992

Albert Schuback- 1993

Josephine Bellamy*- 1993

Mildred Hennessey*- 1994

Eleanor Bell*- 1994

John Aebi- 1995

Hedwig Schubach*- 1995

Grace Donia*- 1995

Henrietta "Henny" Menschner*- 1999

Adelaide Myers*- 2000

Joan Fink*- 2001

Barbara Jackel Sr.- 2001

Michael Michau- 2002

John Malayter- 2003

John Hein Sr.- 2003

Gerald hayes Sr.- 2004

David Porsche Sr.- 2004

Derwood Shauger- 2005

Russel Bellamy Sr.- 2006

Carvalho, Tanya- 2007

Koreny, Charles- 2009

Pate, Joseph- 2010

Ryan, John- 2010

Myers Sr., Edward- 2011

Hayes, Doris- 2012 *
*
ladies auxiliary member
---